"You can't stop the waves, but you can learn to surf."
—Jon Kabat-Zinn
Begin a culture of resilience.
1. TRAIN RESILIENCE CHAMPIONS
Critical for program success – the 2-day Resilience First Aid Certification course teaches leaders, managers, and peers how to champion resilience within the organisation. This is focused on proactively protecting mental health, using positive strength-based language and tools to build a resilient culture with strong support networks, enhancing teamwork and trust.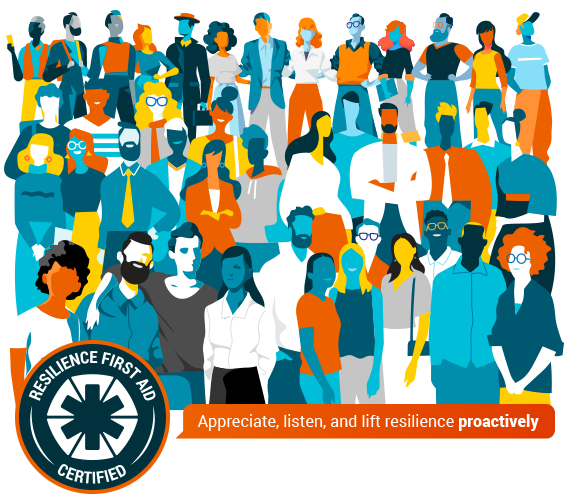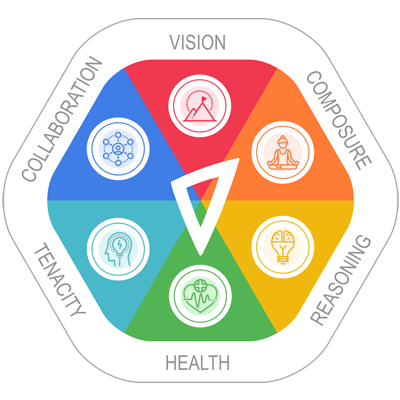 Measure individual, team, and organisational resilience using the efficient and accurate PR6 Resilience Diagnostic. Individuals gain personal PR6 Reports, while de-identified trends at the organizational level gives a strategic overview. Reassess every 6 – 12 months to track progress. 
3. DAILY TRAINING TO BUILD MENTAL FITNESS
Provide access to the Driven training platform – a comprehensive AI-powered system that teaches resilience through daily 5 minute activities. Individual training is automatically tailored to personal resilience needs.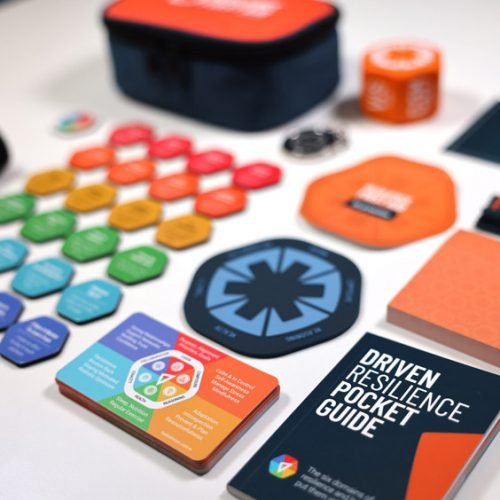 4. MAKE RESILIENCE VISIBLE AND TANGIBLE
Use physical tools to maintain visibility of the key resilience concepts. Physical resources enhance engagement alongside digital (Driven platform) and relational (Resilience First Aid) tools. This integrated approach is important to help achieve long term engagement and achieve lasting cultural uplift.
5. ONGOING RESILIENCE WORKSHOPS
Inspire learning through interactive workshops, integrating seamlessly with the digital and physical resources provided. Workshops are great to engage teams and foster closer connections between team members. 
TRADITIONAL APPROACH
The traditional corporate wellness approach is to provide a plethora of disconnected programs and options to staff, aiming to cover all needs.
However, this creates confusion and disinterest, with low utilisation of programs over time.
CULTURE APPROACH
Our approach is to integrate a cohesive program, bringing a unified language of wellness and resilience to all levels.
This language creates a culture that stretches from leaders, to managers, to staff, through to their family members.
RESILIENCE CULTURE MULTIPLIES VALUE
Embed resilience in all levels of culture with Driven's truly comprehensive and engaging approach. This is achieved by providing training to the full audience:
Training for

 

staff

 

to build personal resilience
Training for

 

managers

 

to learn how to create a supportive environment
Training for

 

leaders

 

to design a culture of resilience
Training for

 

internal champions and responders

 

to proactively build mental health and resilience
Training

 

internal trainers

 

to host workshops
Training access for

 

family members

 

of staff, supporting thriving households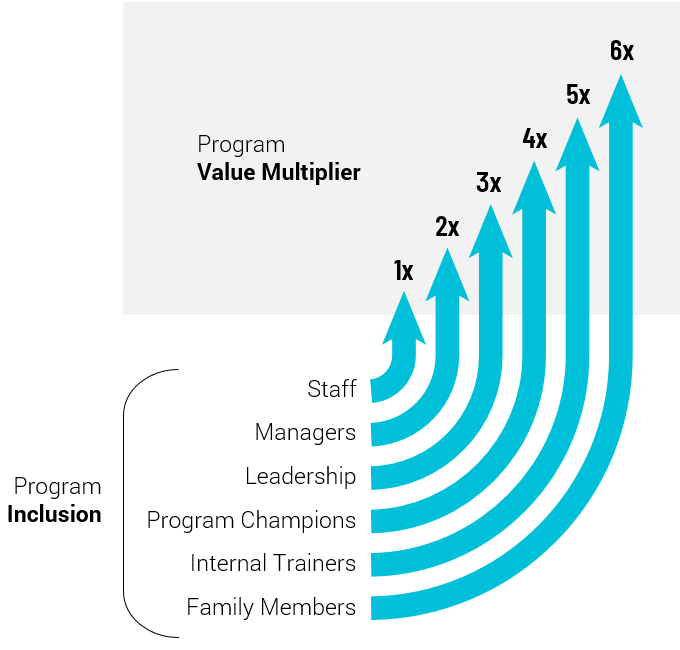 Your people become better at managing uncertainty and staying motivated.
The culture becomes more supportive, more inclusive, and enables innovation and growth.
Your decisions are data driven to efficiently invest lesser resources and time.
INCREASED RESILIENCE: Users become 25% more resilient within the first 6 months.

25%

25%
HIGH ENGAGEMENT: With hundreds of engaging and interactive activities.

87%

87%
IMPROVED PERFORMANCE: 91% of people improve from active participation.

91%

91%
HIGHER JOB SATISFACTION: Employees with higher resilience have 83% higher job satisfaction.

83%

83%
Let's Work Together
Working more flexibly in a sustainable way – that's what makes organisations successful in the long run.